Our Services and Activities
Mishpacha

Our regular services are on Shabbat morning starting at 10:00 AM. Light potluck nosh after service (kosher dairy). Inquire with any questions.
Our community Passover meal is on April 6, 2023, at our home congregation location. This is to remind those who have purchased tickets.
Our Purim Celebration was a blessing with four congregations represented. We want to thank everyone who joined with us. Everyone enjoyed all the activities so much so that we have only a handful of photos.
Men's Conference April 21-23, 2023 in Pensacola
Beit Chesed Shabbat Service ON April 22 - Location Change
Brit Ahm Messianic Synagogue in Pensacola, Florida will be holding a men's conference on April 21-23. You can register in advanced or pay more at the door. This is a weekend conference with a registration fee and you will need to book a hotel for the weekend. It is a men's only conference. However, families can attend Shabbat services on Saturday morning at 10:00 AM as normal. Click here for conference details and to register.
Beit Chesed will not have services on that Saturday, April 22, because we will join Brit Ahm for their Saturday services that weekend. Join us if you would like. Men are encouraged to register for the conference and be blessed with the fellowship of other brothers in the faith.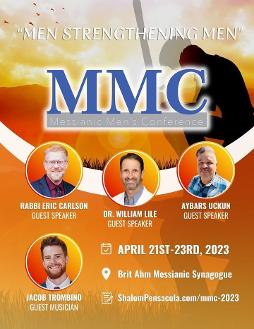 Beit Chesed is a Messianic Jewish Congregation that meets for morning services on Shabbat. Our congregation is starting anew and in the growing process. We are especially looking to welcome other Jewish families on the north shore to establish a local community. Both Jews and non-Jews are welcome to be a part of Beit Chesed.

There are many roles to fill in growing a solid community from the younger to the older generations. The more hearts and hands we have with the same vision, we can grow as mishpacha (family) consisting of Jews and non-Jews being One in Mashiach Yeshua. Because unity is very important, our mishpacha strives to maintain a beit shalom, a house of peace.

At Beit Chesed, you will find that our traditions and celebrations are those commanded in the Torah and passed down generation to generation in the Jewish faith, the exact culture and faith of the Jewish Mashiach, Yeshua. We worship the L-RD, our G-D, with all that we are in our services which includes praise and worship music, Davidic dance, traditional liturgy, and teaching shared from our Rabbi. Our studies mainly include the Torah and Writings, but also pull from many rabbinical sources to clarify deeper understandings of the Torah and Writings.

The above is a preview of Beit Chesed. If you have a desire to learn more about Mashiach Yeshua and being part of our community, please visit with us on Shabbat. We desire to grow as Beit Chesed, a house of loving-kindness.
You may contact us for more information. We meet in Slidell, Louisiana.
LOCATION
Beit Chesed Messianic Congregation
60059 Hwy 11
Slidell, LA 70458